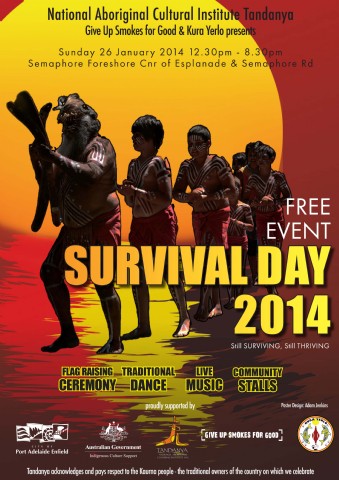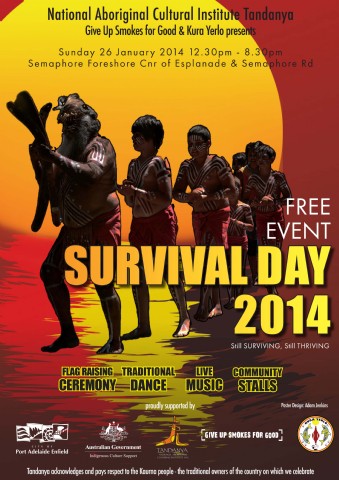 Adelaide – Tandanya
Survival Day
26th January 2014
Survival Day, an important date as we gather together to not only celebrate and commemorate the history of our people but to also acknowledge and strengthen the present and future of our culture. 
Survival Day is a FREE EVENT that offers entertainment, presentations, information, workshops and much more to ensure that the community is strengthened and empowered with all that we come together and stand for.
Hosted by National Aboriginal Cultural Institute Inc Tandanya and Kura Yerlo Inc and Give Up Smokes for Good campaign, Survival Day 2014 will be held at the new location of Semaphore Foreshore Cnr of Esplanade & Semaphore Road.
Survival Day starts at 12.30pm so bring the family along to enjoy a culture filled day!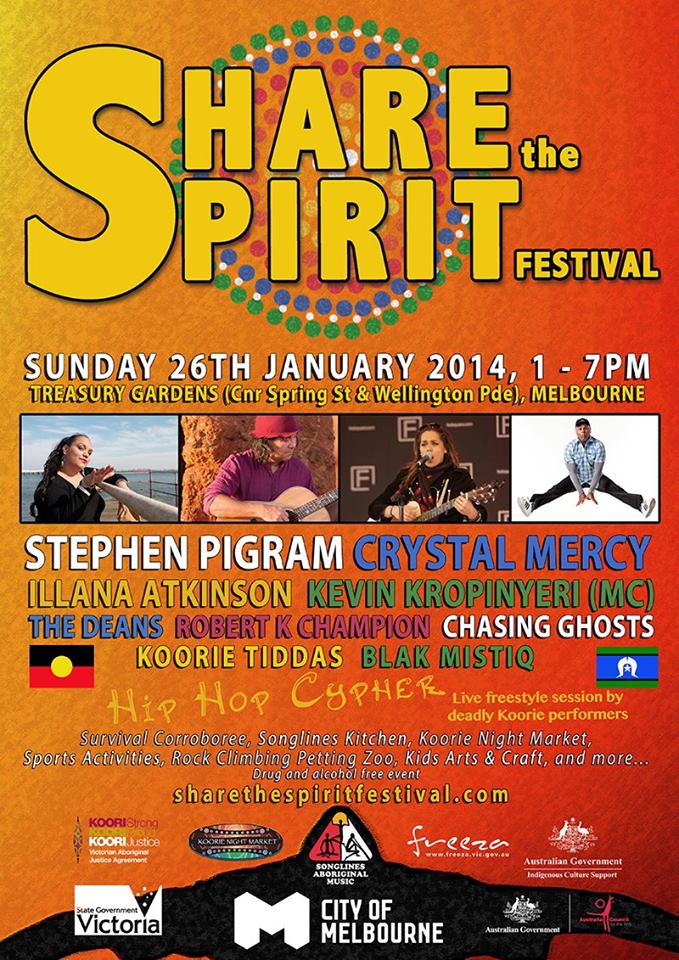 Melbourne
Share The Spirit Festival
Sunday the 26th of January 2014
1pm – 7pm – Free Event
Treasury Gardens – Cnr Wellington and Spring St, Melbourne VIC
Celebrating Aboriginal Culture and Survival
Presented by Songlines Aboriginal Music the event draws on the collective talent, support and passion of the local Indigenous community to deliver a music and dance program, market and food stalls, a youth program, and cultural activities.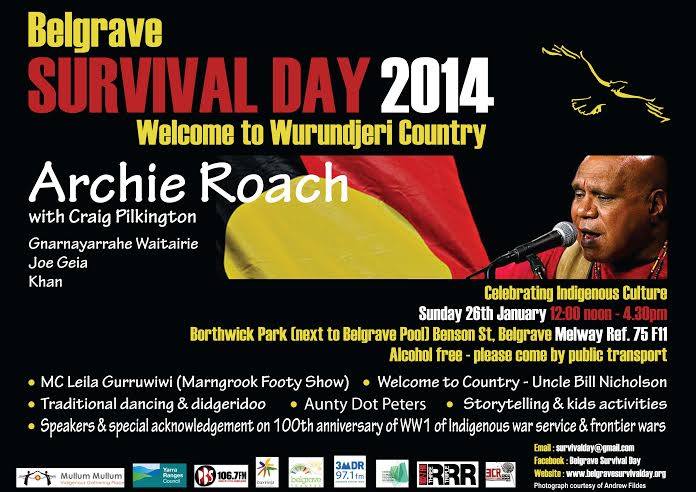 Belgrave Survival Day 2014 – Archie Roach!
On the 26th January, 2014, the seventh annual Belgrave Survival Day event will once again celebrate Indigenous culture and the survival of Australia's first people through 225 years of white settlement. This year we welcome Multi-Award winning and legendary Australian musician, the incomparable Archie Roach, who will be playing from his large back catalogue as well as some new songs from his award winning album 'Into the Bloodstream' . Also gracing the stage of Survival Day will be Joe Geia from Northern Queensland, Gnarnayarrahe Waitiarie (Uncle Joey), Khan on didgeridoo, traditional dancing and engaging speakers. Hosted again by the fabulous MC Leila Gurruwiwi of the Marngrook Footy Show, this year's festival will include special acknowledgment of the 100th anniversary of WW1 Indigenous war service, and frontier wars.
The Welcome to Country and smoking ceremony will be led by Wurundjeri elder and educator, Uncle Bill Nicholson. The Jindi Woraback dance troupe will perform a series of traditional dances and invite the audience to join in. Putting a contemporary spin on the day, the Live to the Beat hip hop crew will bring their dance with attitude to the Belgrave Survival Day stage.
There will be plenty of activities to keep the kids busy with indigenous storytelling, fun music and dance, tucker workshops with Uncle Phil, art and craft opportunities and more.
Soak up the atmosphere on a picnic rug in front of the stage or a stroll around the market and information stalls. There will be a sausage sizzle with vegan options available, a coffee van and ice cream van. This event is alcohol-free. The Yarra Ranges Regional Museum will have a mobile museum set up, bringing to light the story of the "Battle Of Yering" a conflict between local Wurundjeri peoples and Police in 1840 at Yering Station homestead. The event will be simulcasts on   3MDR 97.1 FM and 3CR 855AM.
For further information or comment please do not hesitate to call Bonnie Zuidland 0427 568 644 or via e-mail at survivalday@gmail.com . Details of the event can also be found at our websitewww.belgravesurvivalday.org
When: 26th January 2014 Time:  12 noon – 4.30pm Where: Borthwick Park (next to Belgrave Pool) Benson St, Belgrave. Melway reference  75/F11
The event is organised by a committee of volunteers and we invite new volunteers to help with preparations for the festival or to assist on the day.
Please catch public transport as the parking spaces are limited.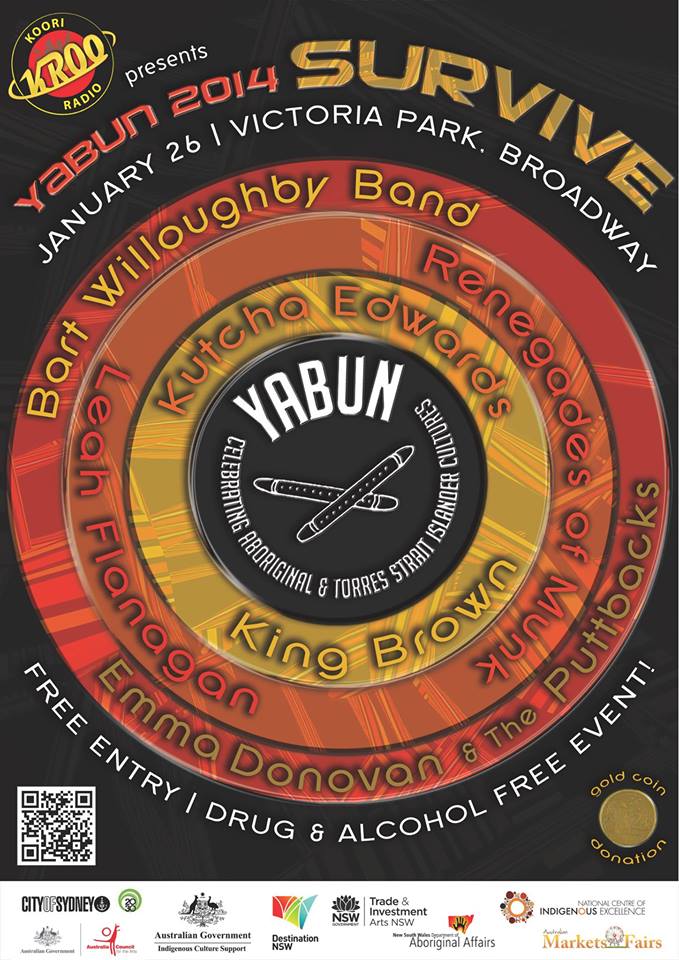 Sydney
"SURVIVE" Yabun Festival 2014 is a showcase of Aboriginal and Torres Strait Islander cultural arts.
Yabun Festival is set to take us on an exhilarating ride along the song lines of contemporary Aboriginal and Torres Strait Islander music with rock pioneers Bart Willoughby Band, Emma Donovan & the Puttbacks, Kutcha Edwards, Leah Flanagan, The Renegades Of Munk, and King Brown.
Celebrating the 25th Anniversary of the original Survival Day Concert of 1988, Yabun will be in its 12th year in 2014.
The festival returns to Victoria Park, Camperdown (corner City & Parramatta Roads) on Sunday 26th January (10am to 6pm).